Request Franchise Information
Ready to bring a Gold Star franchise to your community?
Just a few simple steps and you'll be on your way to small-business ownership.
Once you provide your information, you will receive an email with a link to the free Gold Star Franchise Report, which will give you detailed information about our brand, as well as the requirements to franchise with us. A member of the Gold Star franchising staff will reach out to you by phone. The first call usually lasts just a few minutes and gives us a chance to introduce ourselves to one another and address initial questions.
Once we determine that you're financially qualified and that you're a good fit for a Gold Star franchise opportunity, you'll sign your franchise agreement and we hit the ground running! We will schedule your business operations training at our corporate headquarters in Cincinnati, where you'll also spend time in one of our certified training store locations.
Training will provide you with everything you need to know about running a Gold Star franchise: preparing and serving our products with expertise, hiring employees, managing inventory, even the process for advertising and marketing in your community.
We will be on hand to help guide you through the entire process of opening your Gold Star restaurant to help ensure that you have everything you need to start your new business.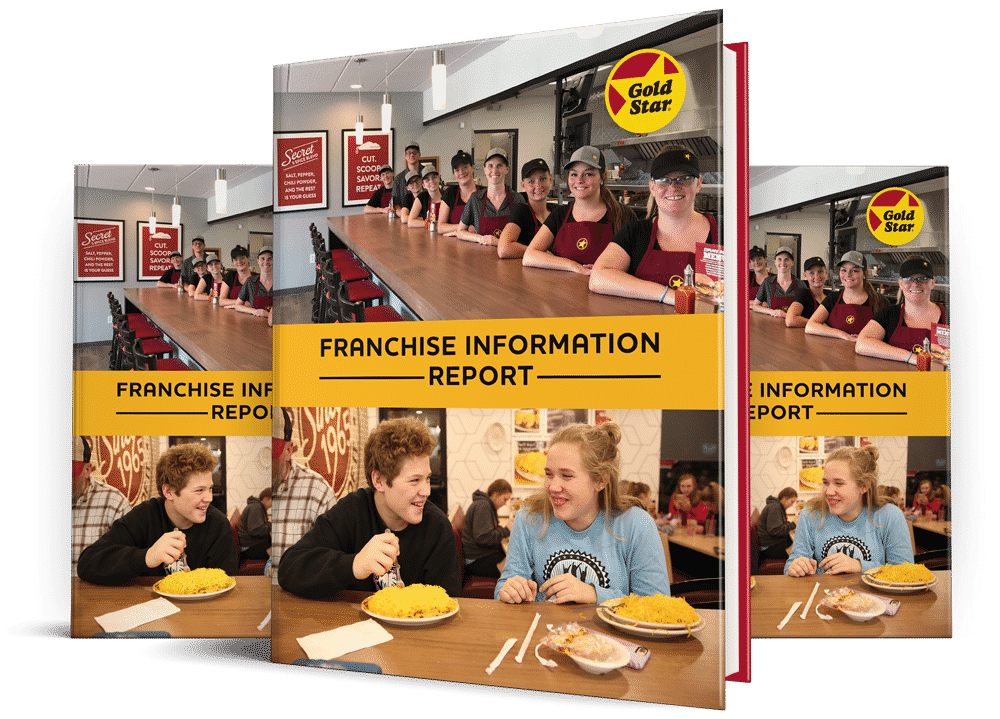 To get started, please download our Franchise Information Report, which includes information about the Gold Star franchise opportunity. The report includes our detailed FDD Item 7, outlining start-up costs and terms, as well as a detailed look into our training platform, business model, executive team and more!
We'll email you a link to the report and follow up with a short conversation to answer any questions you have. Thank you in advance for your interest in owning a Gold Star restaurant franchise.