What Is A Gold Star Chili Franchise?
LEGENDARY CINCINNATI CHILI FRANCHISE ENHANCES EXPERIENCE BUILT AROUND GREAT MEALS AND SERVICE
What makes a Gold Star Chili franchise a special business to own? Here's a hint: it's in the name. Gold Star's marquee product is our take on Cincinnati chili, a unique blend of Mediterranean herbs and spices that should never be confused with "regular" chili — Cincinnati chili is not eaten by the bowl, but rather ladled over spaghetti and then topped with cheese (3-Way), beans or onions (4-Way) and everything (5-Way). We also serve it over coneys, burgers and salads — pretty much anything on the menu can be chili-ized!
As popular as our chili offerings are, our burgers, coneys, chicken sandwiches and salads are equally popular are the non-chili items are greatly expanding our reach as a regional, much loved brand.
There's a lot more to Gold Star than the amazing chili, though. For instance, look at our longevity. We've been around for more than 50 years, building a Cincinnati chili franchise family and becoming a dining destination in the Greater Cincinnati area. We've done this through great food, sure, but also through amazing customer service and some unique touches that you won't find in other QSR restaurants, like table service.
Table service really sets us apart in the QSR segment, making us an attractive business to invest in and operate. In such a busy world, we believe everyone deserves to be waited on. Over more than half a century, we've held to this service model and we've been rewarded by extreme customer loyalty. In a busy QSR segment, customers come to Gold Star because of the service – it simply makes your business stand out.
GOLD STAR CHILI FRANCHISE – SIT-DOWN SERVICE AND SIMPLICITY OF OPERATIONS SET US APART
"We're a mix between fast-casual and full service, waitress-assisted dining, and we even offer a drive-through option," says David Mayerik, Vice President of Operations. "We're kind of a 'tween' model. We serve dining-room customers at their tables, with food on china plates. We are able to offer these different service models because we have products that are easy to prepare, and a business that is simple to operate."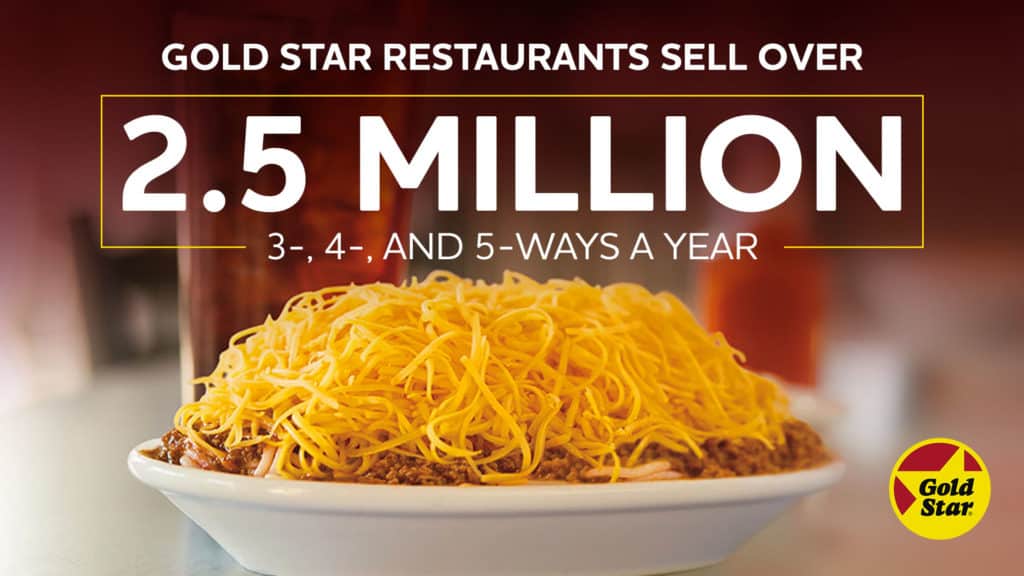 Since its founding in the mid-1960s, Gold Star has kept those two focuses front and center. By offering unique, craveable food and fast, friendly service, it has grown to more than 70 locations in the Greater Cincinnati area. The chili has always been the star, and in recent years it has been joined by culinary crafted burgers and salads, creating even more excitement with the brand's loyal clientele and building repeat business for franchise owners. Now, add to that an updated, streamlined new look for our restaurants and you can see why Gold Star is generating a lot of buzz.
Behind it all, Gold Star is still very much a family business. It was founded by four brothers and their extended family, all Jordanian immigrants who'd come to Cincinnati. They were united in their goal to capture that essential American dream — owning their own business. They and their descendants remain heavily involved in the company today.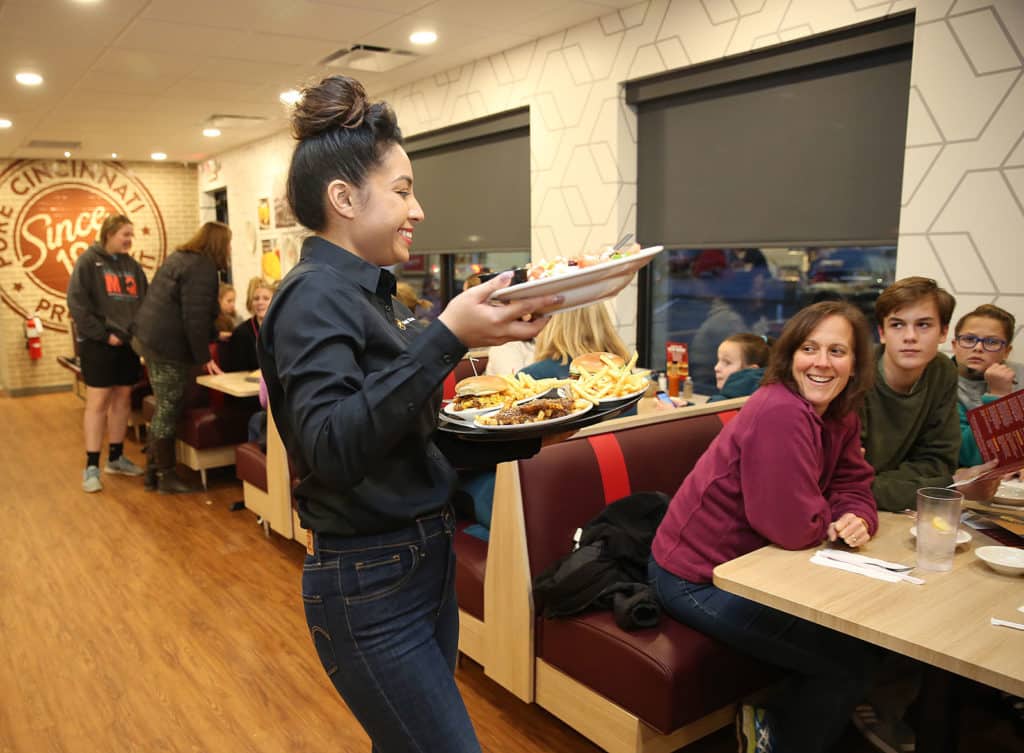 "My father and uncles were working all kinds of odd jobs, and somehow they found themselves in an industry that really does live and die based on the inherent qualities they all possessed: a strong capacity for hospitality and the need to take care of people," says Samir Daoud, Franchise Director. "From then to now we still operate every facet of our business, whether that's customer service or franchisee support, with those traditions. It's our duty."
"Our family is very tight-knit, and many of them have followed the founders into this business because they see the value in what we bring to the community, as well as the opportunity for them to achieve their financial dreams," adds Roger David, CEO and President, who began his Gold Star career as a dishwasher at one of his father's locations. "When we say we are a family business, we mean that we treat everyone — customers, franchise owners, vendors, suppliers — like family. It's how we've always done things."
Gold Star is on the move. We are expanding outward from our Cincinnati roots and looking for enthusiastic franchise partners who want to bring our amazing chili and other delicious menu items, as well as our legendary customer service, to their communities. Our nostalgic hamburgers, comfort food and unique chili offering has a wide customer appeal and we believe you can open an attractive business in your community using our new store designs, fresh and popular menu and unique table service.
Ready to learn more? Click here and we'll send over some detailed information and arrange a call so we can answer any questions you have.