How to Choose a Profitable Hot Dog/Coney Franchise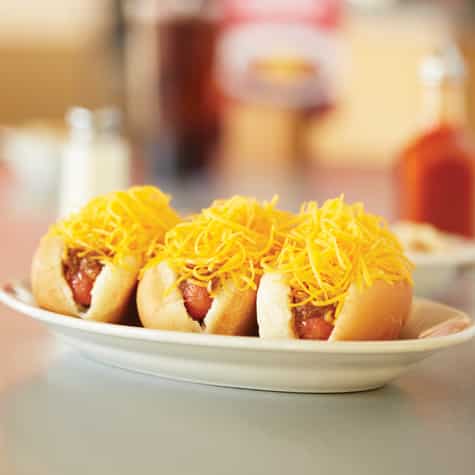 Americans eat nearly 20 billion hot dogs per year, making hot dog restaurants a profitable franchise option. Here's what to look for to set yourself up for success.
The Popularity of Hot Dog Franchises
It is believed that the very first hot dog — once called "dachshund sausages" — was sold by a German immigrant out of a food cart in New York in the 1860s. Around 1870, a German immigrant by the name of Charles Feltman opened the first hot dog stand on Coney Island. He is said to have sold over 3,600 frankfurters (in a bun) within a year.
While the "Coney" name evokes New York, it means something different outside of the Empire State. In other outposts, "Coney Dogs" are served alongside Greek food — hot dogs smothered in chili or ground beef (the Cincinnati chili way), plus mustard and onions. There are plenty of hot dog franchises spreading across the Midwest and beyond.
Since their introduction into the United States, hot dogs or Coney dogs have become and remained a mainstay of Americana: from ball games to campouts to backyard picnics and family suppers.
If you are considering opening a hot dog franchise, it's a safe bet that this is an established and long-staying option.
Cincinnati vs. Coney Island Hot Dog Franchise: What's the Difference?
Nowadays, when you think of American food, hot dogs and Coney dogs must be at the top of the list. They hold a nostalgic value unlike any other and outlast any flash-in-the-pan dining trends.
Gold Star Chili is distinct from the average chili and Coney franchise. Gold Star's premier offering is our Cincinnati-style chili: a unique blend of Mediterranean herbs and spices that offer a flavor unlike any other chili. Our chili can be served over our Coneys, burgers, spaghetti — pretty much any way the customer likes it. In addition to our popular chili options, we can serve a multitude of tastes with our hot dog, burger, sandwich, and salad offerings.
Discover Why Our Hot Dog Restaurant Franchise Stands Out
Gold Star Chili was established by four Jordanian immigrant brothers who bought a restaurant called Hamburger Heaven in Cincinnati. They started offering their chili alongside the burgers, and due to its popularity, decided to rename their restaurant to reflect their brand. They are still a close-knit, family brand and treat their franchisees as such. They were and are united in their goal to capture the essential American dream: to own their own business. They remain dedicated to that dream and wish it for all of their chili and Coney franchisees.
For over 50 years, Gold Star Chili has built a dedicated following in the $256 billion quick-serve restaurant industry. With family-style hospitality and an eye toward the future, Gold Star is ready to share its well-loved and home-grown flavors to other parts of the country outside of Ohio.
In the popular QSR segment, Gold Star Chili offers it all: a menu built around tradition, family, and delicious food, along with a forward-looking attitude that keeps customers coming back. We are ready and excited to grow with you!