Hot Dog/Coney Franchise Opportunities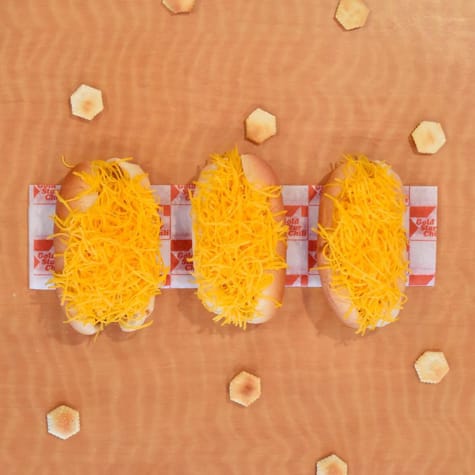 If you want to open a hot dog franchise, our coneys alone will seal the deal. Learn more about Gold Star Chili's streamlined menu and our top-notch franchise program.
EVERYONE LOVES A CONEY
The hot dog is one of America's most beloved foods, so it makes sense to want to invest in a franchise that offers the best option around. Gold Star Chili has specialized in coney dogs — delectable hot dogs ladled with savory Cincinnati chili and a range of other toppings — since first landing on the scene back in 1965.
Gold Star Chili offers prospective franchise owners world-class hot dog franchise opportunities by serving as leaders and innovators in the fast-casual restaurant sector. It doesn't hurt that our coneys are the best in the business.
THE COST OF OPENING YOUR GOLD STAR CHILI FRANCHISE
The investment costs to own a world-class Gold Star Chili franchise pay for expert training, top-notch marketing programs, innovative operational programs, and ongoing support. The initial franchise fee for a Gold Star Chili franchise ranges from $5,000 to $30,000, with total initial investment reaching between $683,000 to $1,003,500.
This may feel like a considerable financial undertaking, particularly for enthusiastic entrepreneurs new to the restaurant world, but Gold Star Chili provides an unrivaled coney franchise opportunity that will all but ensure you have made the best investment.
You can learn more about what to expect in earning potential from the company's Financial Disclosure Document (FDD), which you will receive a copy of upon signing the Franchise Agreement. You can also speak to current franchise owners to hear how well they are doing in their areas and how happy they are with the brand.
FINDING THE RIGHT CONEY HOME
Gold Star Chili is fully invested in helping you secure and establish your restaurant in the best possible location to ensure customer traffic and visibility. We have worked with a variety of real estate and city professionals to decide the right size and location requirements to make your outpost stand apart from other restaurants in the area.
TRAINING FOR THE WIN
Gold Star Chili implements comprehensive training and ongoing support through the day you sign on to be a franchise owner and well into the future. They provide in-person, digital, and other functional support to help you run your restaurant seamlessly and have a great time doing it.
Gold Star Chili welcomes new franchise members from a variety of backgrounds and supports you in your business ownership 24 hours a day. Someone is always available to take your call, answer your questions, and offer assistance on whatever may come up in your coney restaurant.
MAKE AN IMPRESSION
Gold Star Chili provides new franchise owners incredible marketing support, backed by the combined experience of a powerhouse franchise brand, aiding both new and seasoned franchise owners in pursuing their coney franchise dreams. Since marketing is vital to the longevity of any restaurant, Gold Star enlists the expertise of a team of experts, a set of tools, and ongoing campaigns focused on making your restaurant a booming success; so that you may focus on day-to-day business.
Another important focus for prospective Gold Star Chili owners is mindfulness toward community involvement. Through both national and local campaigns, we make it a priority to both give back to our local neighborhoods and foster involvement and connection to the people around us.
WHY GOLD STAR CHILI
The Gold Star Chili story is unique in that it was started by four Jordanian immigrant brothers who came to the U.S. to create a better life for themselves and their families. They brought with them a special, delicious chili recipe and a passion for hospitality. They worked hard, shared their formula for success with younger family members and franchisees alike, and built the successful family-focused business we know today.
For burgeoning franchise owners who are interested in getting involved with hot dog franchise opportunities, there is nothing better than Gold Star Chili, a family-forward brand that prioritizes your success.
To learn more about Gold Star Chili franchise opportunities, please visit us.