3 Reasons Why Gold Star Franchise Is A Best-Bet Investment
Updated menu, outstanding customer service and strong support positions iconic franchise as a unique opportunity in the competitive QSR space
Gold Star, the iconic Cincinnati-style chili franchise, is ready to rapidly expand across the Midwest where the demand for authentic regional food is skyrocketing. With a 50+ year legacy of franchising excellence, Gold Star is proof that a business who focuses on exceptional food and treating guests like family can thrive and grow for decades.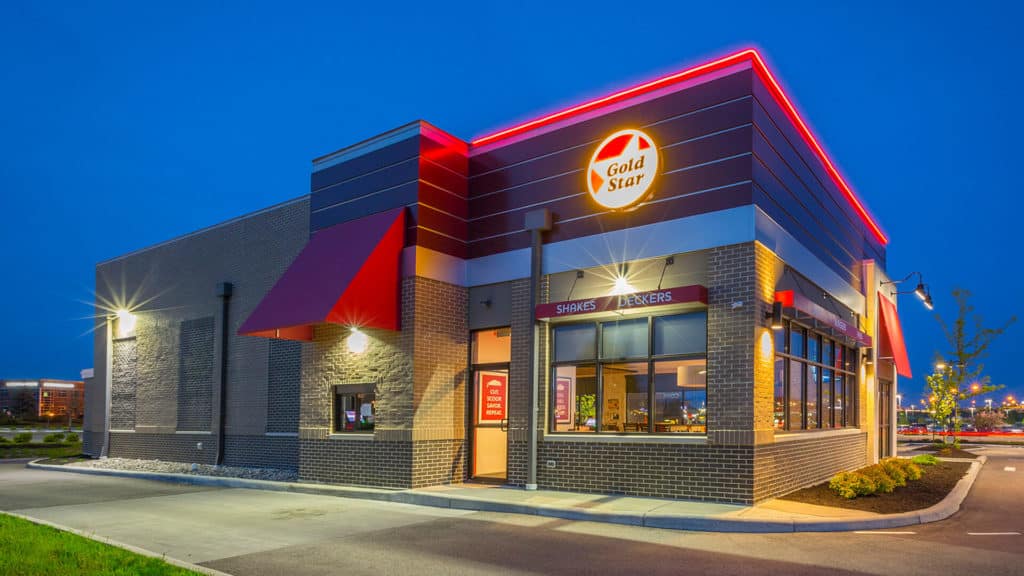 In recent years, Gold Star has revamped its restaurant exterior and interior with a contemporary design that melds the traditional chili parlor into a comfortable, welcoming environment guests will love. The restaurant franchise also expanded their menu to feature classic chili dishes and new grilled-to-order burgers, deli sandwiches, loaded fries, chicken sandwiches and hand-spun milkshakes.
"Now is a great time to franchise with Gold Star because we have an impact process to guide franchisees all the way from initiation to market analysis, preconstruction, construction over to training," says Development Director Tom LiCalzi. "We have created a strong atmosphere and we marry that with a great menu offering and fantastic service."
Here are the top three reasons why Gold Star Chili is a best-bet investment:
A revamped menu features our famous chili and so much more
You don't make a name for yourself as a dining destination for over a half century unless you have great food. Gold Star is an established name in the family dining niche in the Greater Cincinnati area thanks to a simple and delicious menu centered around our staple product – Cincinnati-style chili. 
At Gold Star, the chili is made fresh every day in small batches to ensure their restaurants have a consistent, quality product to serve to their guests. Gold Star's chili is crafted from their founders' secret family recipe of 13 perfectly blended spices to make Cincinnati's classic chili favorites the Cheese Coney and 3, 4 and 5-Way Chili Spaghetti. Gold Star's menu offers something to make everyone happy from fresh grilled-to-order burgers, gluten-free vegetarian chili and double decker deli sandwiches to loaded French fries, hand tossed salads and 100% real ice cream shakes – all made with the same passion for quality and flavor as their chili. 
We treat our guests like members of our own family
Walk into any QSR restaurant and you won't typically find a server who takes your order and brings your food to your table served on a china plate with real silverware. At Gold Star, they believe that everyone who walks into their restaurants deserves to be treated like family and enjoy a comfortable, sit-down meal experience.
"We're a mix between fast-casual and full service, waitress-assisted dining, and we even offer drive-through, carry out and delivery options," says David Mayerik, Vice President of Operations. "We're kind of a 'tween' model. We serve dining-room customers at their tables with food on china plates. We are able to offer these different service models because we have quality products that are easy to prepare, and a business that is simple to operate."
Stellar support and training help franchisees grow
Prior restaurant experience isn't required to operate a Gold Star franchise. In fact, all that they require is a passion for their food and a commitment to exceptional hospitality and customer service. Conversely, Gold Star treats their franchisee network with the same expedient service when they need help. The Gold Star corporate team is just a phone call or email away.
"Whether I or anyone else has the answer or not, that call is returned within 24 hours," says Samir Daoud, Franchise Director. "Even if the answer is 'I'm working on that for you,' that owner gets an update. Their issues and concerns are important to us, and we make sure they get handled as quickly as possible."
A combination of 21 days of both in-store and classroom training ensures that every Gold Star franchise owner is ready to run his or her own business from day one. Additionally, the restaurant's training app, PlayerLync, is a state-of-the art technology platform that utilizes video and tutorial guides to help franchisees on everything from onboarding employees to daily operation processes and procedures. The training app, combined with an accessible support team, provides a strong foundation for every franchise owner from opening day and beyond.
Learn more about a Gold Star franchise
Gold Star is a tremendous opportunity in the $256 billion QSR industry. For the past 50+ years, Gold Star has won an enormous following in the Cincinnati, Ohio, metropolitan area, where they excel at serving delicious comfort food with the kind of old-fashioned, family-style hospitality that is sorely lacking in the rest of the industry.
For in-depth details about the Gold Star franchise opportunity, request our free franchise report. You also can learn more by visiting our research pages.