The Best Cincinnati Chili Franchise: Why Gold Star Stands Out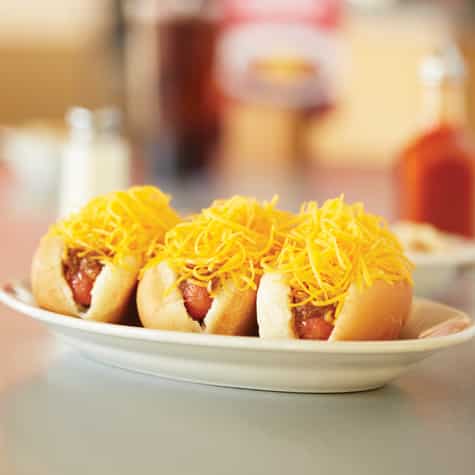 Who doesn't love a good chili dish? Show your hometown pride by learning about the benefits of owning a Cincinnati-style chili franchise.
HISTORY
Cincinnati, Ohio is undoubtedly the nation's capital of diehard chili lovers, with numerous restaurants offering their take on the very specific regional specialty. The best Cincinnati chili is prepared with a distinct blend of spices like allspice and nutmeg and cooking methods that make it unique from its other chili cousins in places like Texas.
Cincinnati locals and people from all over appreciate this style of chili spooned over freshly made pasta and topped with a range of different add-ons including chopped onions, shredded Cheddar cheese, beans, and more. To test a restaurant for the most authentic and best Cincinnati chili, make sure to request the "Four or Five-Way," a heaping serving topped with the works in all its delicious splendor.
The history of Cincinnati chili dates back to 1922, when a pair of Macedonian immigrant brothers opened a small Greek restaurant called the Empress. The restaurant wasn't doing too well until one of the brothers introduced his own take on traditional American chili flavored with a special blend of Middle Eastern spices that could be served in a variety of ways. Customers flocked, and a new style was born.
In 2013, Smithsonian magazine named Cincinnati chili one of the "20 Most Iconic Foods in America." Keeping good company with other food standouts like the Maine lobster roll, New Orleans po boy, and Nashville hot chicken, the best Cincinnati chili franchises are backed by a group of people who take great pride in their hometown and dish out world-class service and deliciousness every time.
THE SKYLINE PATH
For Cincinnati chili enthusiasts looking to parlay their love of cuisine into a business opportunity, Skyline Chili is a present option. The Skyline model functions with the simplicity of easily assembled dishes to maintain efficiency and fast customer service, which are appealing to operators. For prospective franchisees, Skyline offers single-unit and multi-unit development programs. You will need $200,000 in liquid capital to open a Skyline Chili franchise, with the minimum expected investment at $450,000. With 135 Skyline Chili franchises currently in operation, the opening franchise fee is $20,000.
Skyline Chili franchise territories are currently limited to a 200 mile radius around franchise headquarters in Fairfield, OH, which includes portions of Ohio, Kentucky, and Indiana. Skyline offers seven decades worth of brand recognition, but the limited territory within an already niche market will require you to be more proactive in engaging your community.
GOLD STAR CHILI: HOMETOWN CHILI LOVERS REJOICE
Just over a decade after Skyline Chili came on the scene, four immigrant brothers from Jordan bought a restaurant called Hamburger Heaven from a former Empress employee. Once they noticed that their chili was outselling their burger offerings, they renamed their restaurant Gold Star Chili. More than 55 years later, the company still prides itself on close-knit family values.
While Gold Star Chili honors the traditions and recipes that have made them successful since the start, they recognize opportunities for growth and improvement in an ever-changing restaurant landscape. From expanding menu offerings to adapting to technological advances, Gold Star can simultaneously highlight its heritage and values while evolving its brand.
EXCELLENCE SERVED TO ORDER
Gold Star seeks a perfect balance between quality product and maintaining the right cost. As Gold Star Franchise Director Samir Daoud says, "It is our fundamental duty to mitigate the franchisee's risk and try to set them up to attain the highest level of success. We are up-front about our initial fees and investments, and how those costs will be applied to your business."
Gold Star does the research and provides potential investors with transparency through the data collected. Gold Star Chili franchise startup costs can range between $500,000-$1.1 million, so it is imperative for prospective franchisees to understand where their investment is going and how it will be reflected in sales over time.
Daoud emphasizes: "Buying a franchise almost ensures that your restaurant is five times more likely to be open five years from now than if you were to open your own independent concept. Your Gold Star franchisor operates as a partnership. You will be running your own business, but we are here to help you develop your goals and support you along the way."
BUILD YOUR FLAVOR & FUTURE WITH GOLD STAR CHILI
Gold Star Chili operates under four fundamental principles: integrity, compassion, courage and respect. This is evident in every aspect of the business structure. The mission behind Gold Star Chili is to make everyone feel like family and serve delicious food in a welcoming environment that builds community.
Request information to learn more about franchising opportunities with Gold Star Chili.