Restaurant Innovation: Why Invest in a Company That's Always Improving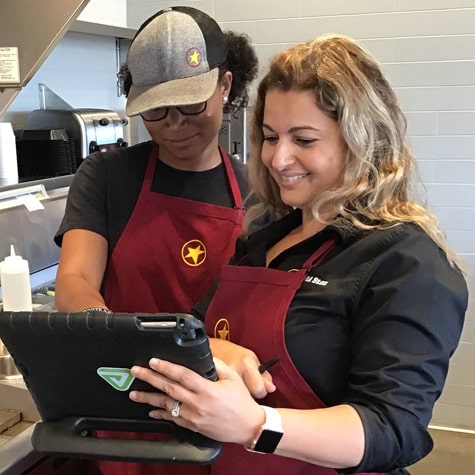 What are the newest tools for running a profitable restaurant? Check out the latest restaurant innovations and the benefits of working with an ever-evolving company.
THE DRIVE-THRU 
While the drive-thru isn't exactly new (some sources mark its origin nearly 100 years ago) to the world of fast food innovation, the format has adapted and improved in recent years. Not only has the drive-thru demonstrated staying power, but its usage has seen a huge uptick since the beginning of quarantine measures earlier last year. For many restaurants, having a drive-thru has been crucial to survival. It's not just one of the only ways food can be delivered – it also serves as a signal to let passers-by see that a business is indeed open.
QR CODES
QR codes have been around for over a decade but have only started to explore their full potential in the restaurant space. With the optimization of mobile phones with scan-reading cameras, restaurants can share a world of information through one small black and white box. Restaurants around the world have adopted them as a touchless solution for menu viewing, but this only scratches the surface of their potential uses. QR code boxes can also be utilized by restaurants to connect customers to websites, promotional deals, social media, and more, sharing up-to-date information as easy as the wave of a phone.
DIGITAL SIGNAGE
Although now they're ubiquitous, digital signs only really took off when flatscreens became affordable. Unfortunately for many restaurant owners, a lack of vision turned an awesome technology into little more than bigger, more expensive versions of traditional menus. But now that most people prefer not to pick up a physical menu if they can help it, combined with the ability of analytics to power the customer experience of digital menus, screens have become a worthy and profitable investment in an industry thrives on staying one step ahead of the competition.
CONTACTLESS ORDERING AND PAYMENT
Before the pandemic, placing an order via a mobile app or the ability to pay by waving a phone or credit card over a payment device was gaining popularity. Customers appreciated the increased transaction speed and convenience. Since the pandemic, many restaurants have further enhanced their online ordering platforms, created apps to facilitate more efficient ordering processes, and partnered with UberEats, DoorDash, Grubhub, and other contactless delivery service options. Even when the pandemic is over and health and safety measures relax, contactless ordering and payments are likely here to stay.
MENU INNOVATION
Businesses are rethinking their menu offerings to be more accessible and viable during the pandemic. Larger menus have become more streamlined, and item combinations that cater to busy families have gained traction. These changes allow restaurants to sustain jobs for their employees, support lower food waste, and continue to serve their community the food they love.
REVOLUTIONIZING TRAINING & SUPPORT
As the industry evolves, restaurants that stay on the cutting edge of technology hold the upper hand. Beyond how we make, deliver, and advertise food, restaurants are implementing advanced methods for how they train and communicate with their staff at every level. Gold Star Chili has implemented PlayerLync, a comprehensive digital operational support and training platform. With tablets available to all franchise owners and staff, each restaurant is able to access a wide range of content and communication tools at the click of a button. Gold Star Chili takes its responsibility of staying ahead of trends and innovating seriously. This way both consumers' and franchisees' needs and wants are met in order to stay relevant in the quick service restaurant space.
Gone are the days of the clunky operations manual. PlayerLync and other similar interfaces allow franchisees to communicate both internally and externally, adding great value to their franchising experience. Pertinent and up-to-date franchise information can be shared seamlessly between staff, franchisee, and franchisor. The platform serves a dual purpose as a sort of field trainer, as well, assisting employees as they grow confident with their job responsibilities.
ORIGINALITY AS INNOVATION
As people begin to gather around tables in restaurants again, it is most imperative for brands and franchise owners to offer something that makes them stand out from the herd. Gold Star Chili serves authentic Cincinnati chili handed down over generations. The original recipe is still what draws friends and families to gather for our small batch chili burgers and coneys today.
Gold Star Chili is rooted in the past while tied to the future. Our authentic family recipes lay the foundation for our cooking processes and emphasis on integrity, just as we continue to grow our brand with new menu options, innovations, and promotions.
For like-minded entrepreneurs who seek an innovative restaurant franchise opportunity, Gold Star Chili offers an unmatched level of support and growth potential.
Contact us to learn more about franchising with Gold Star Chili.