Franchise Training: What to Expect from Your Franchisor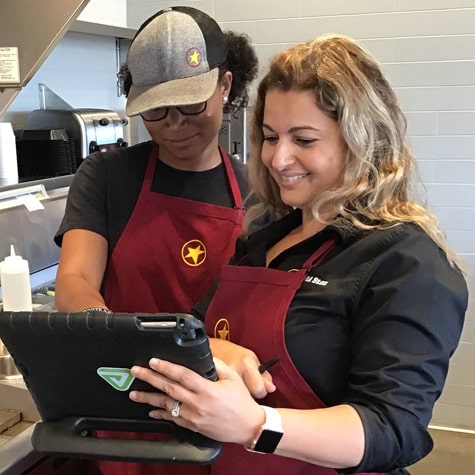 The benefit of expert training and world-class support is likely one of the biggest reasons you have decided to become a franchisee. The right franchisor will have a strong system in place to not only prepare you for opening day but set you on course for long-term success. Here are some of the tools and training you can expect from your franchisor.
FRANCHISE OPERATIONS MANUAL
Your training will likely begin with the franchise operations manual. This tool will lay out the operations standards expected of you by the franchisor. It's a critical tool for development and operations that you'll want by your side when you first open your doors and as you grow your franchise business. The operations manual is a good starting point and template for more intense and hands-on training that's to come.
Your operations manual should also give you further insights into the values, culture, and overall mission of your franchise. These things will eventually become second nature to you and the employees that you go on to train.
NEW RESTAURANT OPENING (NRO)
Now begins the process of learning all the ins and outs of how to run your franchise; through classroom, in-store, and on-site training.
Classroom training typically takes place at brand headquarters and online over the course of a few weeks and starts with the fundamentals. During this phase of training, new franchise owners meet members of the executive franchise team with who they will form lasting relationships. During in-store training franchisees will get hands-on experience with products, learn about HR best practices, how to handle back-of-house paperwork, team leadership skills, and more. Now is the time for new franchisees to ask all the big questions, so that they may fully grasp every aspect of operating their business as part of a brand.
At Gold Star, new owners are taken through the same process as any employee, visiting a franchise location to learn how to see how each and every aspect of the restaurant functions as part of the whole. With a "train the trainer" approach, Gold Star believes in equipping all new franchisees with the tools they will need to onboard their own staff and pass lessons down for years to come.
ON-SITE TRAINING
In preparation for your Opening Day, most franchisors will send brand representatives to your restaurant location to ready you and your staff in all aspects of operations. For Gold Star Chili, this includes group orientation, building menu knowledge, prep and production, station readiness, and customer service standards.
Here, these professionals work closely with you and guide you through everything you'll need to know as you prepare to open. They often remain by your side through your grand opening and sometimes even beyond. This period of time offers you great hands-on training right in your own place of business. Again, don't miss this opportunity to ask as many questions as you can think of.
Gold Star Chili franchisees and their teams are introduced to PlayerLync, a comprehensive digital training and operational platform that provides cloud-based support and trackability for all owners, managers, and employees to access at any time. It's essentially an operations manual on steroids, and a priceless resource for franchisees and their teams.
POST-OPEN TRAINING & ONGOING SUPPORT
Congratulations, you are open for business! At this point, members of your franchise operations team will stick around to make sure everything runs smoothly and address any issues or questions that may not have been addressed during pre-opening training. Gold Star Chili team members will work closely with you until you have mastered all of the moving parts, and you and your staff feel confident to run your restaurant.
Even after we leave you to it, Gold Star support is never more than a phone call away. And the PlayerLync platform is a continuous resource for operational and training tips, calibration reports, and updates to products or protocol.
FRANCHISE WITH GOLD STAR CHILI
While aspects of the process are similar across the industry, Gold Star Chili believes in exceeding expectations. Our franchise model stands above the competition when it comes to comprehensive franchisee training and ongoing support. Our strong brand values and emphasis on quality and service promote an enthusiastic atmosphere that attracts only the best franchisees.
If you are interested in learning more about franchising with Gold Star Chili, please visit us.