SKIP THE FISH FRY: GOLD STAR SERVES UP VEGETARIAN CHILI USING PLANT-BASED BEYOND MEAT®️, PERFECT FOR LENT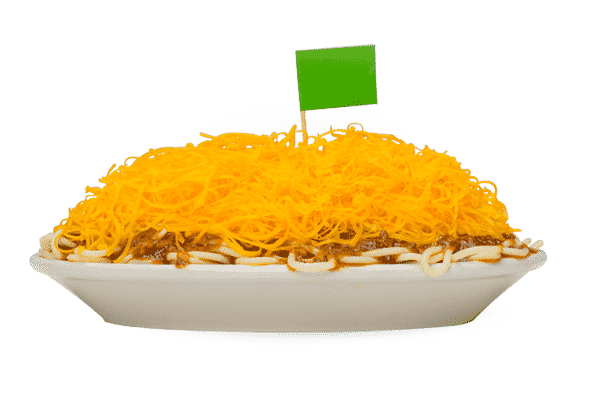 Available at all locations, the vegetarian recipe is gluten-free, vegan and made using BEYOND MEAT®️ product
Cincinnati – As Lent approaches, many Cincinnatians will abstain from eating meat on Fridays, but it doesn't mean you have to rely solely on fish as a Friday meal solution. Gold Star has set out to ensure the region can still enjoy a Cincinnati favorite as a meatless option this Lenten season and all year long. Trust us, this Chili is beyond your wildest veggie dreams.
Available in all area restaurants, Gold Star's Vegetarian Chili looks and tastes like the original family recipe, but without the meat. Just like Gold Star's original chili, our Vegetarian Chili is made in small batches, with plant-based BEYOND MEAT®️ and authentic Cincinnati-style chili flavor and Gold Star's famous 13-spice profile.
"Gold Star's Vegetarian Chili is a delicious option for chili loving families who are observing Lent, who are vegetarians or those who are struggling to find restaurants that can meet their dietary needs," said Roger David, CEO of Gold Star. "Our Vegetarian Chili is gluten-free and vegan, but definitely not flavor-free. We worked hard for a few years to perfect this recipe, and it was important to ensure that those who wanted to enjoy a Cincinnati classic during this Lenten season could do so. At Gold Star, our goal is to offer a variety of Cincinnati-Style Chili options that will please the whole family."
Perhaps the best news? Guests can try Gold Star's Vegetarian Chili guilt-free on any of their Cincinnati-style favorites including the Chili Cheese Sandwich, 3-Way (or any way) Chili Cheese Fries, Chili Salad, and the Gold Star Gorito. Additionally, Gold Star's menu always includes vegetarian options like Gold Star's Chili Salad with Vegetarian Chili topped with cheddar cheese, sour cream, tomatoes, and Fritos® corn chips. If the winter weather also has you hibernating inside, don't forget that you can get your Gold Star favorites delivered right to you via Uber Eats or DoorDash.
"Gold Star's Vegetarian Chili is so close to the original that it's served with a green flag for dine-in guests. For drive-through, carry out or delivery, we serve our Vegetarian Chili with a green sticker on the packaging. This is so the guest knows, in fact, that it contains Vegetarian Chili instead of the original beef recipe," David said. "We've worked hard to not overlook any details and to get this right. Our Vegetarian Chili is Cincinnati-style chili at its finest, no matter how you choose to enjoy it."
Whether you like your chili on a 3-Way or a Chili Cheese Sandwich, Gold Star's Vegetarian Chili is a delicious option for vegetarians and those looking for meatless options both during the Lenten season and beyond. So, skip bundling up the kids for this Friday's fish fry and let Gold Star take care of your family's Lenten dinner. Who knows, Gold Star's Vegetarian Chili just might be a dish your family will be craving year-round!
Please reach out if you have any questions and thank you in advance for considering a story surrounding Gold Star's Vegetarian Chili. For promotional photos, videos and logo click here: http://bit.ly/3dlbDib. For more information about Gold Star, visit www.goldstarchili.com.
###
ABOUT GOLD STAR
At Gold Star, we're all about the chili. We've been serving our guests the most flavorful, delicious Cincinnati Chili since 1965 when the Daoud brothers pooled resources to purchase a restaurant in the Cincinnati neighborhood of Mt. Washington. Chili that's always fresh, never frozen. Made in small batches every day to ensure quality. Crafted from our founders' secret family recipe of 13 perfectly blended spices to make Cincinnati's classic chili favorites the Cheese Coney, and 3-, 4- and 5-Way Chili Spaghetti. Our menu offers something to make everyone happy from fresh grilled-to-order burgers, gluten-free vegetarian chili and double-decker deli sandwiches to loaded French fries, hand-tossed salads and 100% real ice cream shakes – all made with the same passion for quality and flavor as our chili. Today, Gold Star has more than 75 corporate- and franchise-owned locations throughout Ohio, Kentucky and Indiana and is actively developing new franchise opportunities in the region. For more information, visit www.goldstarchili.com.