Celebrate National Chili Dog Day 2021 at Gold Star, Enjoy a Free Cheese Coney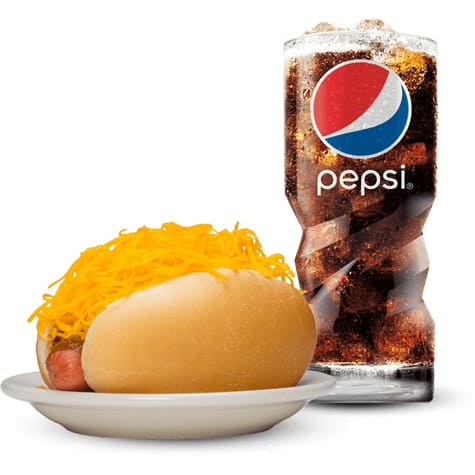 A free cheese coney with any dine-in, drive-thru or carry-out purchase of a regular-sized beverage available at all Gold Star locations Thursday, July 29, 2021
Cincinnati (July 19, 2021) – National Chili Dog Day is back – and so is a tasty special offer at all Gold Star locations throughout the Tri-State region, sure to satisfy all those who love Cincinnati's signature dish.
Cincinnati-style chili lovers will receive one free cheese coney with the purchase of any regular Pepsi® product for dine-in, drive-thru or carry-out service on Thursday, July 29 at any of Gold Star's 70 neighborhood restaurants. The cheese coney is a staple of Gold Star's menu, serving more than 7.8 million to guests in 2020 alone. Based upon the size of the average Gold Star coney, that's more than 2.6 million feet of our specially made hot dogs in steamed buns topped with our signature small batch chili served with mustard and onions and piled high with freshly grated Wisconsin cheddar cheese… that's also the length of 3,920 Great American Towers!
Cheese coneys are a staple on menus across the Greater Cincinnati/Northern Kentucky region and a crucial part of the Gold Star experience. Coneys aren't the only star player on the Gold Star menu, however. Gold Star's menu also boasts 3-, 4- and 5-Ways, grilled-to-order burgers, gluten-free vegetarian chili, loaded fries, and hand-spun milkshakes at select locations.
"National Chili Dog Day is a perfect time to rediscover why the Cheese Coney is a Cincinnati favorite and our number one seller with more than 7.8 million sold per year," said Roger David, president and CEO of Gold Star. "Pair your Cheese Coney with a side of crinkle cut Chili Cheese Fries to truly celebrate the Cincinnati holiday."
The 2021 National Chili Dog Day celebration will be available at all 70 area Gold Star locations throughout the Tri-State region; hours vary by location. For more information or to find a location near you, visit www.goldstarchili.com/chili-dog-day.
# # #
ABOUT GOLD STAR
At Gold Star, we're all about the flavor. We've been serving our guests the most flavorful, delicious Cincinnati Chili since 1965 when the Daoud brothers pooled resources to purchase a restaurant in the Cincinnati neighborhood of Mt. Washington. Chili that's always fresh, never frozen. Made in small batches every day to ensure quality. Crafted from our founders' secret family recipe of 13 perfectly blended spices to make Cincinnati's classic chili favorites the Cheese Coney, and 3-, 4- and 5-Way Chili Spaghetti. Our menu offers something to make everyone happy from fresh grilled-to-order burgers, gluten-free vegetarian chili and double-decker deli sandwiches to loaded French fries, hand-tossed salads and 100% real ice cream shakes – all made with the same passion for quality and flavor as our chili. Today, Gold Star has 70 corporate- and franchise-owned locations throughout Ohio, Kentucky and Indiana and is actively developing new franchise opportunities in the region. For more information, visit www.goldstarchili.com. Gold Star is hiring for all positions with competitive pay and benefits; apply to join our team at: https://www.goldstarchili.com/careers.