Infection Control in Restaurants: 6 Tips for Ongoing COVID-19 Protection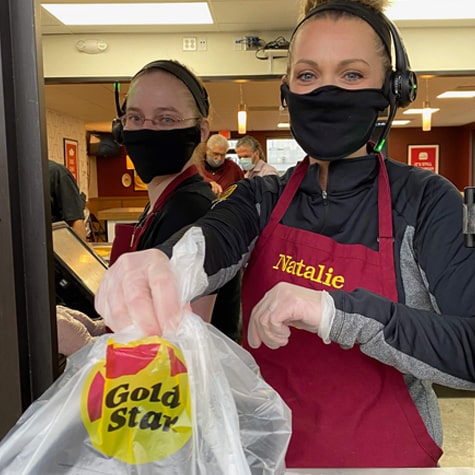 Even after vaccinations, you may still have questions about a restaurant's ongoing COVID-19 response. While indoor dining is still not a guarantee, there are plenty of things restaurants can do to prevent the spread of infection.
MASKS & MORE
As the Delta variant of the coronavirus has become the most predominant variant in the United States and other variants are cropping up, restaurateurs find themselves once again making difficult decisions on health mandates. Where laws allow, many restaurants are requiring patrons and employees to wear masks, offer proof of vaccination, or provide evidence of a recent COVID-negative test result as a preventative measure to help both diners and staff feel safe. Infection control in restaurants isn't that black-and-white, since laws and regulations vary. In some states, restaurants are not allowed to ask for proof of vaccination and local governments are not allowed to issue mask mandates, so be sure to check the laws and restrictions in your area before instating any such policies.
MODIFY LAYOUTS & PROCEDURES
The CDC is still recommending a 6-foot social distancing practice for both unvaccinated and fully vaccinated folks. While this may prove challenging for indoor dining rooms, there are some steps that restaurants can take to ease diners' concerns and help stem the spread of the virus.
Limit restaurant capacity. Restaurants operating at 100% capacity are less capable of providing a healthy distance between tables and heavily trafficked pathways.
Offer outdoor seating. Indoor dining after vaccination opened up, but many restaurants are reverting back to creative outdoor seating: transforming sidewalks, parking lots, and yards into improvised al fresco dining rooms.
Offer drive-thru, curbside take out, and delivery options. Even if you don't have money to cut a window into your restaurant wall, you can set up employees with clipboards, orange cones and headsets to create an ad hoc drive-thru.
Ask customers to wait outside or in their cars while waiting to be seated. This cuts down on the amount of congestion in the front of your restaurant. Discourage crowded waiting areas by using a phone app, texting, or other signs to alert customers when their tables or to-go orders are ready. Avoid using buzzers or other shared objects.
Provide physical guides to help people social distance. Tape on floors or sidewalks and signage take the guesswork out of the 6-foot rule. Consider providing these guides wherever lines form.
Avoid self-serve food or drink options. Buffets, salad bars, soda fountains and condiment dispensers were quickly shut down during the initial COVID-19 response, and as numbers climb again it's just a solid preventative practice. Train your employees to provide refills and other items diners may need, thereby limiting the amount of cross-touching.
KEEP IT CLEAN
Restaurants are no strangers to keeping up safe and healthy environments in accordance with food safety regulations, so the addition of COVID safety measures should come as second nature.
The EPA has created a list of disinfectants that are effective at killing the virus, and regular hand washing with simple soap and water should be promoted more than ever.
Pay special attention to any surface customers touch, like chairs, menus, and doors, and make sure indoor dining spaces are well ventilated. Provide antibacterial gloves for your team, especially if they handle cash. Many restaurants are choosing to bypass physical menus in favor of QR code-linked online versions, and temporarily choosing cashless transactions, thereby cutting down on the likelihood of cross-contamination between patrons and employees.
Many restaurants have chosen to schedule multiple daily professional cleanings. In any case, make sure your staff is well-versed in cleaning protocol for both front and back of house. Employees should be taking extra precautions with their prep and closing work to ensure the sustained cleanliness of the restaurant.
TREAT YOUR RESTAURANT LIKE A FAMILY
As a restauranteur in the midst of a global pandemic, it is of paramount importance to do everything in your power to implement infection control in your restaurants to keep your customers and employees safe. Gold Star Chili has always operated as a family, now more than ever. Since the start of the COVID crisis, Gold Star has followed CDC guidelines and government mandates to the letter across all our locations. One of the benefits of being part of a franchise family is the sense of unity across the brand, as well a comprehensive set of guidelines and practices that are implemented at each restaurant to keep things running smoothly.
LEARN MORE ABOUT THE GOLD STAR FRANCHISING OPPORTUNITY
Gold Star Chili has always been fully committed to the health of our community. Having invented the chili parlor drive-thru, we continue to work hard keeping everyone safe, happy, well-fed. We've been serving classic comfort food with old-fashioned hospitality for more than 50 years in the Cincinnati area, and we're seeking franchisees to help us expand in the Midwest.
Request more info here about franchising with Gold Star Chili.