Franchise Opportunities in Cincinnati: Open a Gold Star Chili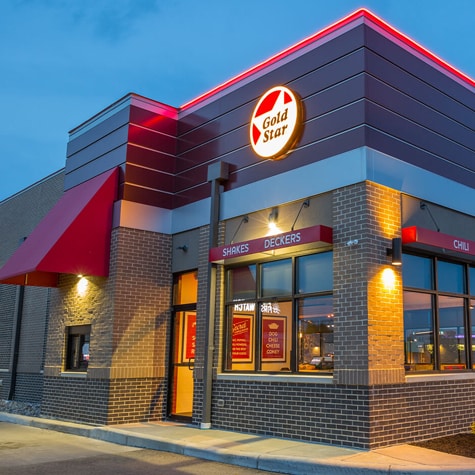 When narrowing their search for restaurant franchises, entrepreneurs engage in extensive research. In doing so, they may come across accolades for Gold Star Chili, such as Food & Wine naming the brand one of the best fast-food chains in Ohio.
Recognition such as this isn't the product of the food quality alone. To achieve real success, a franchisor company must help franchisee success with strong processes, smart training and support, and local brand recognition.
Gold Star Chili has developed a strong formula for excellence, honing each of these factors and growing the brand. In fact, even within Gold Star's home city of Cincinnati, new opportunities are available.
And that is a major commentary on the brand, considering that the city is known for chili. It means that even within a chili destination such as Cincinnati, the public continues to clamor for more locations of Gold Star.
Entrepreneurs examining Cincinnati franchises for sale will find an ideal opportunity in new locations of Gold Star Chili — a deeply embedded, recognized brand in the city.
The Evolution of a Growth Brand
A good restaurant franchisor does not rest on its previous success, instead it constantly looks towards the future. The mere fact that Gold Star has thrived for 50+ years in an overcrowded segment of the restaurant industry is a testament to its successful operations. Most recently, a full redesign of the brand and its locations was implemented, tying together market and industry research to ensure top-end experience for all diners.
Gold Star, an established name in family dining in Greater Cincinnati, made its name with chili for over half a century, but more recently has also added fresh grilled-to-order burgers, deli sandwiches, gluten-free vegetarian chili, salads, loaded fries, chicken sandwiches, and hand-spun milkshakes to its menu of classic chili dishes.
A System — and Recipe — for Success
For entrepreneurs looking to open a Cincinnati chili franchise, Gold Star's proprietary IMPACT process helps ensure franchisees are open, trained, and packed with customers from day one. This process is designed to guide franchisees through market analysis, pre-construction, construction, marketing, and training for efficient operation and top-notch service.
And while systems keep business running on a trajectory of growth, the foundation remains good food and hospitality. Gold Star makes its Cincinnati-style chili fresh every day in small batches — using a secret family recipe with 13 blended spices. Classic menu favorites include the Cheese Coney and 3-, 4-, and 5-Way Chili Spaghetti.
Special Service
Gold Star's positioning is a hybrid of fast-casual and full-service. Unlike most fast-casual concepts, Gold Star uses waitress-assisted service, with food served on real plates, with real silverware. It makes the experience a more comfortable, sit-down affair.
But Gold Star also offers drive-thru, carry-out, and delivery options. These options, in part, have helped Gold Star not just survive the COVID-19 pandemic but surpass last year's numbers.
Support and Training
Franchise owners start with 21 days of both in-store and classroom training, enabling them to hit the ground running on day one.
PlayerLync, a state-of-the-art technology platform, uses video and tutorial guides to help franchisees with onboarding employees, daily operational processes and procedures, and more.
The company's employee training enables franchisees to take applicants with no experience, but a passion for food, and train them to excel in providing great service.
Franchisees also have ongoing corporate support and guidance live by phone or email.
For anyone interested in available Cincinnati franchises for sale, Gold Star Chili is a very strong investment.
For more information about Gold Star Chili franchising, visit franchise.goldstarchili.com.