Gold Star Franchise Review: Meet Tim Gayhart
Why an experienced restaurant operator who grew up loving Gold Star Chili decided to become a franchise owner
Restaurant operator Tim Gayhart grew up eating and loving Gold Star, so when the opportunity arose to own a franchise, he jumped on it. His reasoning was simple: Gold Star retained the exceptional food he's loved since his childhood, while vastly improving franchisee support through superior training and state-of-the-art technology.
"I am excited about the future of Gold Star. Their focus on service, food and atmosphere has allowed them to stay committed to success as well as continue to be innovators in the category" says Gayhart, whose store is in Dry Ridge, Kentucky, about 35 miles south of Cincinnati. "As we grow and as we invest our own money in the restaurants, we know the leadership team is likewise investing in the brand through better technology, faster service, better marketing all so we can have an edge on the competition as we grow."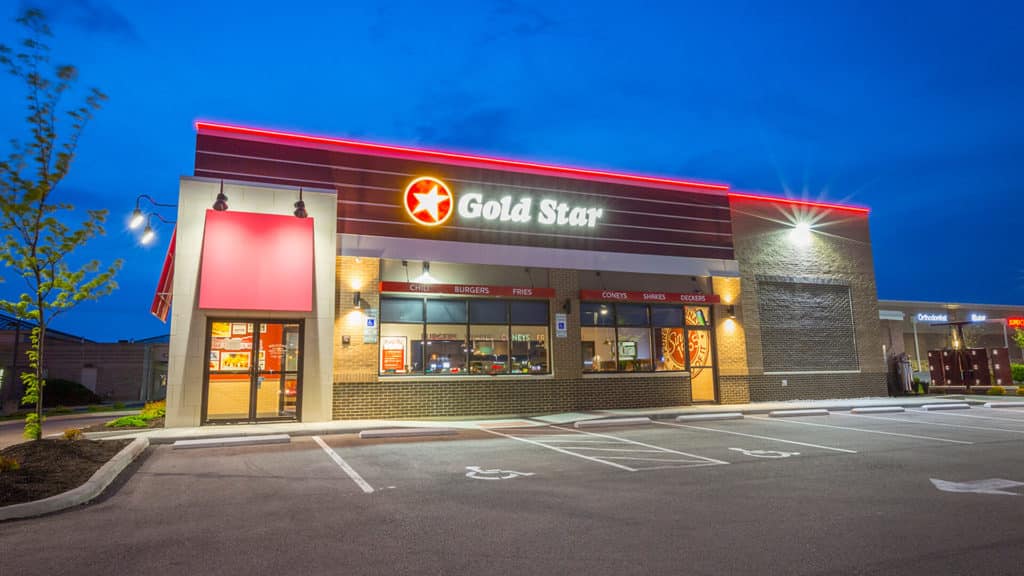 Gold Star's Chili offers a strong flavor profile that stands out
A restaurant is only as good as it's food and Gayhart already knew and loved Gold Star's signature product — Cincinnati-style chili — and as a seasoned entrepreneur, he knows that exceptional food is the first step towards building a loyal customer base.
"The main thing that attracted me was the product," he says. "I grew up in Cincinnati and grew up eating Gold Star as a kid. With the new Generation 5 prototype, I recognized an opportunity to grow as they rebranded their image with the same strong flavor profile that I was used to for 25 years. I think it's a unique flavor on the chili. Of course, Cincinnati chili is known for being unique, but Gold Star has a little more flavor to it, a little more spice, which makes it truly stand out from the competitors."
Culture and franchise support foster owner success
Gold Star prides itself on strong franchise support from the minute an investor signs their franchise agreement, and Gayhart found the support to be extremely beneficial. Not only was he new to the Gold Star brand on the owner's side, but he bought an existing location and took it through the rebranding process.
"The culture within the company is driven to success," Gayhart says. "And it was there from the initial phone conversation through discovery day, and all the way through the initial training. You could tell they were committed to the franchisees' success as well as to the success of the brand."
Rebranding drives revenue for franchisees
A legacy brand like Gold Star, in business for more than 50 years, naturally has a strong customer base, and Gayhart says the restaurant's rebranding is drawing new fans. The focal point of that rebranding, beyond a more modern store design, is the expanded menu that now features burgers, chicken sandwiches, salads, shakes and fries. The new menu attracts a broader demographic, which in turn, translates into stronger sales.
"Prior to the reopening, we had a really strong customer base for the small town that we are in," he says. "But now with the new store design and the burgers, I would say not only did we keep every customer that we had but we've grown in two ways. We're attracting more young families because there is something for everyone now. Our percentage of sales were up almost 40 percent for a long time and we continue to be up almost 30 percent. Those are new customers and they are also repeat customers, so it's been a great transition."
Learn more about a Gold Star franchise
Gold Star is a tremendous opportunity in the $256 billion QSR industry. For the past 50+ years, Gold Star has won an enormous following in the Cincinnati, Ohio, metropolitan area, where we excel at serving delicious comfort food with the kind of old-fashioned, family-style hospitality that is sorely lacking in the rest of the industry. 
For in-depth details about the Gold Star franchise opportunity, request our free franchise report. You also can learn more by visiting our research pages.