Franchise Fees: The True Cost of Buying a Franchise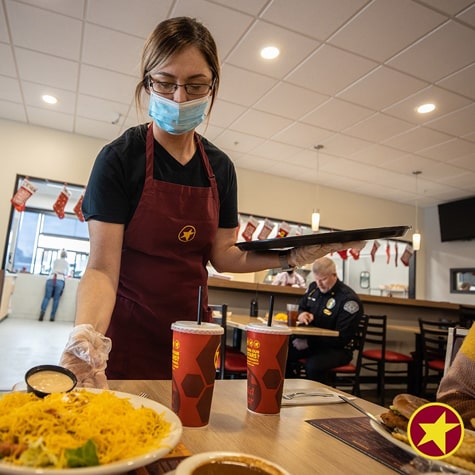 Franchise fees are the cost of entry for owning your own outpost of an established brand. The price tags and what you're paying for will vary across the board, but here is a rundown of some of the most common things you should expect in return for your investment.
INITIAL FRANCHISE FEE
Not to be confused with the total upfront investment, the initial franchise fee is a one-time payment made to the franchisor upon signing of the Franchise Agreement. For fast-casual restaurant franchises, this fee typically ranges from $20,000 to $50,000 and will be disclosed in the Financial Disclosure Document (FDD) or sometimes right on their websites.
A common misconception is that franchise fees simply pay for the use of a brand's name. With the best franchisors, your investment covers training, site selection assistance, marketing, and operational support as you prepare to open your restaurant.
LOCATION & BUILD-OUT COSTS
You will need to purchase or lease a location for your restaurant if you don't already have one. Different franchises have specific size and location requirements to qualify a space as a suitable outpost for their brand. Other critical factors will include ingress/egress, number of parking spots, visibility, and options for a drive-thru.
Your franchisor understands the importance of selecting the perfect location for your restaurant and has a team of experts ready to assist with site selection using sophisticated market analysis tools and a comprehensive database of restaurant-focused brokers in your area.
Your investment in build-out can and most likely will vary based on a range of factors. They include location, real estate market values, building size, and starting condition. Working with the franchisor to help select a location that meets their specifications will give you a better sense of how much it will cost to get your business up and running. The price of renovations, construction, and other improvements will factor greatly into your overall franchise startup costs.
OPERATIONS TRAINING
The right franchisor will be dedicated to preparing you and your staff to run your restaurant with confidence and finesse. With Gold Star Chili, the new restaurant support program implements both comprehensive pre-opening training and post-open ongoing support.
Gold Star is pleased to provide all franchisees access to PlayerLync, a streamlined training and operational support program that offers a wide range of content to extend and enhance all of the in-person opening preparations.
This broad-spectrum approach ensures that you will have all the tools you need to run your business successfully while buoyed by the knowledge that if any challenges arise, expert assistance from your franchisor is always available to you.
MARKETING SUPPORT
For prospective restaurateurs still waffling over whether to open their own independent store or invest with a franchise, the level of marketing expertise and involvement is an undeniable benefit provided by the latter. Marketing is crucial to the success of any restaurant, and a franchisor employs a team of experts, complex marketing tools, and ongoing campaigns that allow you to focus on running your business instead of worrying about attracting customers.
Gold Star Chili applies a multistage marketing approach with all franchisees, boosting community awareness and creating a buzz around your restaurant before, during, and after your opening day. As part of an award-winning franchise system, you will benefit from the years of experience that Gold Star's marketing team brings to your business.
Plus, any initial and ongoing fees you spend on marketing with Gold Star essentially get invested back into your local market in order to promote your business, as well as maintain a strong digital presence and reach a broad customer base.
ALL-ACCESS PASS
While your initial franchise fees go directly towards all of the franchisor's efforts to get your restaurant up and running, the support doesn't end after opening day. As part of your investment, you will have access to a broad network of suppliers, fabricators, and vendors, not to mention the in-house management leaders who are just as invested in your success as you are.
FRANCHISING WITH GOLD STAR CHILI
Costs associated with opening an independent restaurant can be unpredictable and overwhelming, as well as require a lot of outside assistance. Gold Star Chili is upfront about franchise costs and provides unparalleled guidance and support through every step of the opening process. Untested restaurant concepts often have difficulties securing funding, which can prove prohibitive, particularly for first-time restaurateurs. Backed by over five decades of franchising experience and brand-name excellence, Gold Star Chili is committed to seeing our franchisees thrive. When you invest in Gold Star Chili, we invest in you.
Click here to learn more about franchising opportunities with Gold Star.